COVID-19 Controls
Checked by NSF™
Emerge confidently from COVID-19 closures with NSF, leaders in public health and safety. Our three-phase program provides assurance to your customers and employees that your organization has implemented best practices in COVID-19 risk mitigation.
Contact foodsafetysolutions@nsf.org for more information.
Our Solution
NSF's three-phase Checked by NSF™ COVID-19 control plan helps companies communicate their commitment to best-practice guidance on COVID-19 protection for their employees and customers.
Phase 1: Plan
Your organization's reopening plan has been created or vetted by NSF.
The reopening plan complies with guidance from recognized public health authorities and with local requirements.
A staff leader has been designated and trained in COVID-19 safety protocols.
Phase 2: Implement
NSF has documented that all aspects of your reopening plan have been implemented.
Front line staff has been trained on COVID-19 safety protocols.
Individual locations meet or exceed relevant public health requirements for COVID-19.
Phase 3: Improve
Your organization continues to monitor, manage and improve your systems and practices.
Program compliance checks are performed by NSF at least every 90 days using the Checked by NSF™ app, remote verification or on-site visits.
Checked by NSF™ is supported by a custom app that enables collaboration among sites, managers and quality teams, benchmarking of operations and risk-based analytics of leading indicators to proactively mitigate hazards.
Industries Served
Nearly every industry has been affected by COVID-19, and each has special considerations that need to be in place for reopening. With effects felt across every region and sector, employees and customers need reassurance that the best practices in risk mitigation and protection are implemented.
Featured industry sectors include:
Commercial/office
Educational/cultural
Hospitality/hotel
Manufacturing
Medical
Retail
Restaurants/foodservice
NSF Experts
Development of NSF's COVID-19 reopening program was led by a team of experts that includes microbiologists, scientists, Ph.D.'s, medical doctors, former WHO technical officers, FDA regulators, engineers, chemists and other professionals specializing in public health and the environment.
Their efforts created a comprehensive program of science-based guidance and a variety of easy-to-use tools that any industry can use to reopen and stay open during this pandemic.
Their expertise is on display through the webinars and guidance materials found in the Resources section below.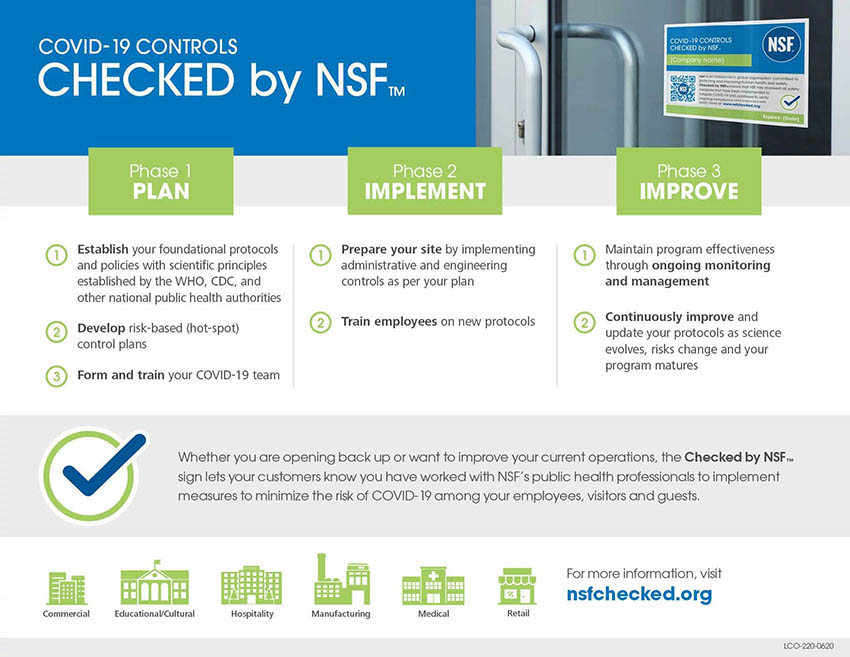 Why Work with NSF?
In 1944, Walter Snyder, Henry Vaughan and Nathan Sinai founded NSF in the University of Michigan School of Public Health in response to a need for sanitation standards for soda fountains and luncheonette equipment.
For over 75 years, NSF has facilitated standards development and, separately, provided independent testing and product certification for the water, food and health sciences industries.
So when you are looking for solutions to reopen and protect your employees and customers, turn to the world leader in public health and safety.
COVID-19 Readiness
NSF provides risk mitigation and crisis management and response services to help your company understand and address issues surrounding the COVID-19 pandemic.
Food Safety Culture COVID-19 Employee Survey
Employees are the backbone of your COVID-19 efforts. 
Engaged employees who understand your program expectations and appreciate the risks are more likely to adhere to your program, stay well and help you stay operational.
As a global leader in food safety culture and employee engagement, we've seen how employee surveys can be used to drive improvements in culture. We know they can work and we hope the answers to these questions help you protect your employees and keep your operations running.
Contact NSF if you'd like to discuss effective ways to deliver these surveys or download our Food Safety Culture Covid-19 Employee Survey now.
Supply Chain Resiliency Rapid Response to COVID-19
NSF's rapid response services are actively helping companies find qualified alternative suppliers during the current global supply chain disruptions.
Identify your specific product requirements, and we can search our extensive global database for suppliers based on your criteria. We compile a comprehensive report identifying potential alternate suppliers including certifications and locations.
For more information and to take advantage of the service, contact us at foodsafetysolutions@nsf.org.
One-Hour COVID-19 Readiness Assessment Phone Consultation
Our resident microbiology expert, Dr. Ruby Lee, will conduct a one-hour phone consultation on COVID-19 risks, answer your questions, help your company manage the COVID-19 risks and help you reassure your customers. Dr. Lee will walk you through the latest understanding of transmission risks related to personnel, visitors, raw materials, sanitation control and business continuity.
Mock COVID-19 Readiness Exercise
This exercise is custom built for your operation and circumstances and designed to test your ability to respond to a variety of different scenarios. The exercise will identify gaps in your program and give you the insight to make critical improvements where needed. This exercise is delivered by Rod Wheeler, CEO of the Food Defense Institute.
Contingency Supplier Approval Services
Our team of supplier management PCQI experts will respond quickly to conduct the necessary supplier approval work on your behalf. NSF will ensure your approved contingency supply chain process meets your food safety expectations delivering consistent and safer ingredients, raw material or packaging material to you.
Consultant Bio:
Dr. Ruby Lee
Dr. Ruby Lee, M.Sc. Ph.D., a microbiologist by profession, has provided consulting, training and auditing services for hundreds of companies in the food, veterinary and diagnostic laboratory industries in North America for over 25 years. She is a Senior Microbiologist at NSF, faculty at York University's Schulich Executive Education Centre and President of Lee Food Microbiologists Inc.
Rod Wheeler
Rod Wheeler, MA, is the founder and CEO of The Global Food Defense Institute, which provides educational training and certification programs for the food, agriculture and chemical industries to ensure confidence and protection and to guard against intentional contamination and sabotage. Rod is a seasoned homeland security, law enforcement and food defense expert. He is a former "all-star" homicide detective with the Metropolitan Police Department in Washington DC as well as an investigator for the state of Ohio Attorney General.
You can rely on NSF to provide you with current and accurate information. For more information, contact foodsafetysolutions@nsf.org.