Outsourced Services
The endless opportunities for employees in today's labor market challenges companies to maintain a stable workforce. Coupled with that is the internal cost pressures companies face of adding additional headcount.
NSF helps ease these challenges by providing short- or long-term staffing (full time or fractional) to our customers. When NSF places a technical expert with you, you gain more than a single person; you gain access to a global network of expertise, all hassle free. We can help with:
Scale up for special projects quickly
Unexpected departure of food safety and quality personnel
Flexible full time or fractional food safety, quality and regulatory expertise
Parental leave coverage
Your resource is the gateway to wide range of expertise available within NSF
Get in touch if you'd like to learn more about how NSF can ease the challenges of staffing at your company. Contact nsfcanada@nsf.org or call 519-821-1246.
Supplier Management Services
Falling behind on your supplier approval program? Struggling to manage supplier compliance to internal or regulatory standards? Need help visiting your suppliers' facilities?
NSF's supplier management services provide our customers with added personnel and expertise to manage the food safety and quality of their supply chain. NSF resources act as an extension of our customers' quality and food safety team and come with years of industry experience. Our customers include restaurant chains, foodservice companies and manufacturers who outsource specific functions of their supplier management program.
Our customers leverage our team of technical and food safety specialists to:
Collect and review supplier documentation to ensure it meets their compliance requirements (HACCP plans, audit reports, product claims)
Complete consultative on-site assessments of suppliers across North America
Work directly with suppliers to improve quality and safety programs to meet customer expectations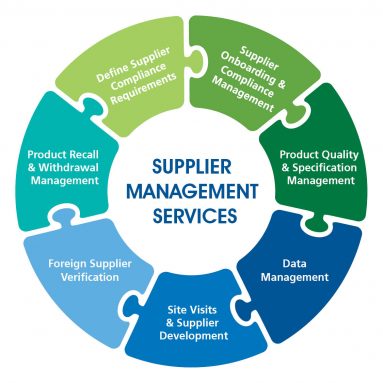 Additional service include:
Supplier approval program development
Supplier onboarding and compliance management
Specification management
Foreign supplier verification
Product recall and management
Client Testimonials
HMSHost
"HMSHost looks to align our values, professionalism and expertise with like-minded businesses that have a stellar reputation. NSF provides HMSHost with supplier technical support, regulatory compliance reviews and data management."
– Keith Sykes, Sr. Manager Quality Assurance, HMSHost
Village Farms
"Our team all felt our NSF resource was a part of our company. She was critical to the success of the program."
– VP Food Safety and Regulatory Affairs, Village Farms